See how Steven's skills helped The Asha Project on a Website Visual Design project.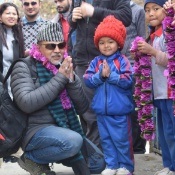 ASHA means HOPE. Providing hope is our purpose. To provide hope in all aspects of life by supporting initiatives that are run by the people of Nepal for the people of Nepal. Guided by our three pillars, we will support projects that inspire hope for the Nepali people.
What did Dr. need?
The success of our organization depends on web master. Without your help, we cannot promote our new projects. Your skills will empower us to reach out goal of getting messages and getting funding.
Thank You for the Opportunity
Matched On
Dec 5, 2016
Saved
$9186
Have professionals like Steven help you on a Website Visual Design project
Post this project
Volunteer
I have 25 years cross-industry experience as a designer // creative in layout, production, visual marketing, print, visual development, photo books, look books, magazines, and presentation decks. Editorial // Layout // CPG // Look Books Lifestyle // Hospitality // Fashion // VMD Travel /...
Read More
What did Steven have to offer?
Good Morning Dr. Tulsi I can do this website for you. I use Pagecloud. https://www.pagecloud.com Probably a redesign is needed. I'm looking to do more design type work for Foundations, Associations, Museums.... if it be african wildlife, humanity based projects, saving the rain forests, helping our environment or ocean based projects with its super delicate ecosystem. Thank You for your consideration Steven I have 20 years cross-industry experience as a Designer Editorial // Layout // CPG // Look Books Lifestyle // Hospitality // Fashion // VMD Travel // Real Estate // Wildlife Print // Retail // ID // Music // Food Production // Prepress // Concept Design Brand Design // Photography Concept With innovative thinking, fresh original ideas, keen sense of trends and strong ability to express and implement those ideas over a wide range of disciplines making myself an invaluable resource. Thank you for your consideration PORTFOLIO: http://www.krop.com/steven-king/
This engagement is sponsored by