See how Doug's skills helped The Asha Project on a Storytelling project.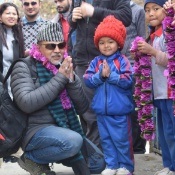 ASHA means HOPE. Providing hope is our purpose. To provide hope in all aspects of life by supporting initiatives that are run by the people of Nepal for the people of Nepal. Guided by our three pillars, we will support projects that inspire hope for the Nepali people.
What did Dr. need?
The success of our organization depends on story writer. Without your help, we cannot provide needed support. Your skills will empower us to to provide 300 scholarships for students.
Dr Tulsi was great to work with. He provided exactly what he was looking for but more than willing to work with me about how the project took shape. He has a worthy cause and it was a please to help.
Matched On
Dec 2, 2016
Saved
$2397
Have professionals like Doug help you on a Storytelling project
Post this project
Volunteer
For many years I have been a practicing Buddhist which led to an interest in Tibetan and Nepalese causes. In addition to my professional experience I have several years with creative writing and social media.
What did Doug have to offer?
I have for decades been intereted in causes of Nepal and Tibet. I believe that the stories of what is happening will motivate others to help preserve the culture and heritage of Nepal. I want to contribute to that noble effort. My career transition into creative writing combined with my decades-long interest in topics related to Nepal motivate me to create and convey compelling stories that promote and help the people and culture of Nepal.
Hi Doug, Since it's volunteer week, I wanted to say thank you for helping us out on our ASHA PROJECT. It's been such a pleasure working with you, and your contributions have really helped us improve on telling our stories about the project. I hope that we can continue doing great work toget...

Read More
This engagement is sponsored by