See how Sean's skills helped The Asha Project on a Mission, Vision & Values project.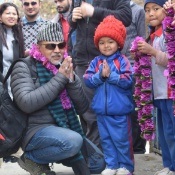 ASHA means HOPE. Providing hope is our purpose. To provide hope in all aspects of life by supporting initiatives that are run by the people of Nepal for the people of Nepal. Guided by our three pillars, we will support projects that inspire hope for the Nepali people.
What did Dr. need?
The success of our organization depends on educated members. Without your help, we cannot meet the needs of people. Your skills will empower us to help additional people in Nepal.
Matched On
Dec 5, 2016
Saved
$7248
Have professionals like Sean help you on a Mission, Vision & Values project
Post this project
Volunteer
Creative and analytical marketing copywriter with a proven track record of writing highly effective, results-oriented campaigns in the technology, transportation, and financial industries. SPECIALTIES INCLUDE: SEO/SEM, Marketing Automation, Demand and Lead Gen, Strategic Positioning, SaaS too...
Read More
What did Sean have to offer?
The privileges I enjoy are a direct result of the generations before me building up an infrastructure for me to succeed. Healthcare, opportunity, and education are requirements for all people. I want to help people – in anyway that I can – achieve their full potential. I have several years of experience in the financial and technological industries. My speciality is weaving effective stories from large amounts of complex data. I can write a Mission, Vision & Values project that will intrigue and excite your audience into learning more about your project.
This engagement is sponsored by