See how Ashley's skills helped The Asha Project on an Annual Report Writing project.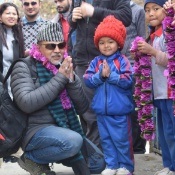 ASHA means HOPE. Providing hope is our purpose. To provide hope in all aspects of life by supporting initiatives that are run by the people of Nepal for the people of Nepal. Guided by our three pillars, we will support projects that inspire hope for the Nepali people.
What did Dr. need?
The success of our organization depends on clear message. Without your help, we cannot develop the message. Your skills will empower us to promote our organization's vision and mission.
Dr. Tulsa was a pleasure to work with.
Matched On
Dec 12, 2016
Saved
$9148
Volunteer
Professional with over six years' experience in financial and banking industries. Excellent communicator with strong leadership skills and the ability to build cohesive, productive work teams. Extensive history of community involvement, including fundraising, budgeting, and strategic planning.
What did Ashley have to offer?
In researching your organization, I can tell that the group is very passionate about preserving the Nepalese culture in your community. Your website is full of beautiful pictures of your group in action, and stories of the people you've touched. A polished, cohesive annual report can help your organization clarify and share its mission with the public. I have over 5 years of experience assisting non-profit organizations to realize their vision. I compile annual reports daily for government and 501c3 organizations for compliance with regulations from the Security and Exchange Commission. I am confident in my research and design capabilities and know that I can provide FONNJ with an excellent annual report! Thank you for the opportunity.
Ashley did a wonderful job completing our annual report. She was very professional and dedicated individual. Thank you Ashley.
This engagement is sponsored by