See how Alexa's skills helped The Asha Project on a Fundraising call.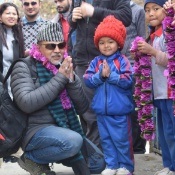 ASHA means HOPE. Providing hope is our purpose. To provide hope in all aspects of life by supporting initiatives that are run by the people of Nepal for the people of Nepal. Guided by our three pillars, we will support projects that inspire hope for the Nepali people.
What did Dr. need?
We are going to Nepal on a Humanitarian project trip & would like to collect school supplies. What will be the best way to approach?
It was great speaking with Dr. Tulsi and learning about all of his incredible work with Friends of Nepal- NJ. Dr. Tulsi has been with the organization since it started (25 years) and does incredible work. I hope to speak to him again in the future!
Matched On
Dec 20, 2016
Saved
$450
Have professionals like Alexa help you on a Fundraising call
Post this call
Volunteer
I am experienced in client and program management customer success and hiring and training in the social impact space. Additionally, I helped start a grassroots nonprofit in Delaware called Lori's Hands and sit on the American Cancer Society's junior board. In these roles I have done everything f...
Read More
What did Alexa have to offer?
I have been fundraising in some capacity for the past 10 years. I have successfully ran small and low effort events and campaigns. This was anything from a guest bartending event to crowdfunding campaigns. I have also ran large and high effort formal events with 200+ people in attendance. In the past year I have helped raise over $15,000 for causes that I care about. I also am on the board for an organization that focuses on seniors and aging in place so this cause resonates with me!
She was very helpful in providing ideas and suggestions to further our cause.
This engagement is sponsored by