See how Jim's skills helped The Asha Project on a Fundraising call.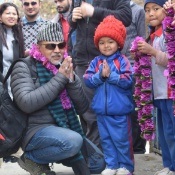 ASHA means HOPE. Providing hope is our purpose. To provide hope in all aspects of life by supporting initiatives that are run by the people of Nepal for the people of Nepal. Guided by our three pillars, we will support projects that inspire hope for the Nepali people.
What did Dr. need?
I just created my 1-minute elevator pitch and would love for someone to listen to it and give me real-time feedback.
Matched On
Dec 31, 2016
Saved
$450
Have professionals like Jim help you on a Fundraising call
Post this call
Volunteer
I have a professional background which eclectically combines experiences ranging from the US military to the non-profit human services sector. All of my experience revolves around service to my community and to those unable to care for themselves. I live to serve and have done so around the world...
Read More
What did Jim have to offer?
I have 11 years experience in Fundraising and Fundraising management with some of the largest organizations in the world as well as some of the most localized. I have led teams to raise nearly $120 million over that time.
This engagement is sponsored by