See how Khanh's skills helped NAMI NJ on a Brochure Graphic Design project.
NAMI New Jersey (NAMI NJ) is a statewide non-profit organization dedicated to improving the lives of individuals and families affected by mental illness. Through education, support, advocacy and public awareness programs NAMI NJ fosters understanding about mental illness, confronts stigma often a...
Read More
What did Nelhy need?
Due to strong prevalent stigma, discrimination, cultural & linguistic barriers Hispanic-Latino population does not reach out to seek help. NAMINJ en Espanol program brochure will help families & peers to understand that they are not alone in this journey. Help, support and resources are available to them through this program. NAMINJ en Espanol provides free, no cost emotional support, education and referrals in a stigma free environment and fosters understanding that recovery is possible.
Matched On
Feb 13, 2020
Saved
$4212
Have professionals like Khanh help you on a Brochure Graphic Design project
Post this project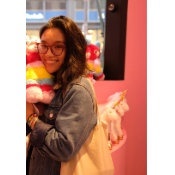 Volunteer
I'm an aspiring UX/UI designer with experience in graphic design. My previous roles were in sales and customer service for Google and Indeed (respectively) where I learned to solve client's problems via the respective products. My philosophy in design is to always remember the human.
What did Khanh have to offer?
Having experienced mental health problems myself, I believe that everyone deserves a platform to share and find resources for their mental health. I am a volunteer for NAMI East Bay and I hope to bring help to mental health organizations whenever I can. I have a year-long experience designing graphic brochures for non-profit organizations. Furthermore, I'm deeply interested in mental health and I can provide branding if necessary. *Please see my work with files marked dinner-program and tri-fold dark
This engagement is sponsored by