See how Kate's skills helped No Peeking Theatre on an Event Press Kit project.
No Peeking is an immersive and inclusive theatre experience that stimulates all senses except for sight.
What did AMANDA need?
his will help us build buzz for our upcoming show in a festival where we are simply one show of hundreds.
Matched On
Feb 4, 2020
Saved
$1852
Have professionals like Kate help you on a Event Press Kit project
Post this project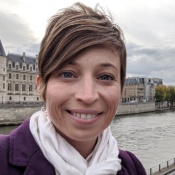 Volunteer
I'm an Emmy award winning TV news producer with 13 years of experience as a journalist. I also have several years of marketing experience, including working at a nonprofit. In 2017, I started to organize neighborhood jigsaw puzzle swaps which have grown from 4 people to more than 40 and continue ...
Read More
What did Kate have to offer?
I'm a big supporter of the arts and would love to help a unique group such as yours thrive! Your theatre group looks really awesome and I'm inspired to help you out! I have not done a long-term project through Catchafire before, I have only done 1-hour phone calls, but I'm excited to give this a try and see if it will work out for both of us. I've worked in marketing and have lots of experience in TV & digital news so I'm on the receiving end of a lot of press releases and know what works.
This engagement is sponsored by