See how Gabrielle's skills helped NEW JERSEY PARENTS CAUCUS, INC. on a Logo Design project.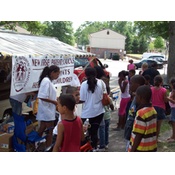 NJPC is a statewide coalition of family members and impacted youth whose mission is to ensure that every family who has children with special emotional and behavioral needs is given an opportunity to play a strong and active role in the conceptualization, development and delivery of effective and...
Read More
What did kathy need?
This project will aid in our celebration of 20 years and conveying our target population and mission.
Matched On
Feb 6, 2020
Saved
$3002
Have professionals like Gabrielle help you on a Logo Design project
Post this project
Volunteer
Graphic Design student, with a 4.0 GPA, seeking opportunities to give back to the community with my skills as a designer.
What did Gabrielle have to offer?
Not only am I a New Jersey resident, but I'm also a mother of two special needs children. I have twin daughters with ADHD, and I've seen first hand just how much they've grown and improved behaviorally thanks to services we've had the pleasure of using in our area. I would absolutely love to help your organization in anyway I can. I have spent a year working as a freelance designer successfully helping start up businesses create not only a logo but a complete rebranding of their business as well. I am confident that I have the skill set to help you with this project.
This engagement is sponsored by