See how Randi's skills helped Gloucester City Sail on an Elevator Pitch Coaching project.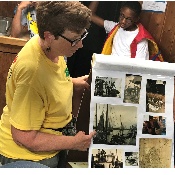 Our mission is to give local youth the opportunity to do science, learn history, and work on the schooner Northwind while sailing on the Delaware River. Our purpose is to inspire imaginations and expand career horizons.
What did Karen need?
Although we have been in existence for 10 years, we are at the early stage of developing a strategy for seeking local corporate and foundation sponsorship. We have developed some materials about our Youth Outreach Program and the various levels of sponsorship we are seeking, but we have no experience actually approaching prospective sponsors. The Board is willing to help the Fundraising Committee network, but we all need guidance so that we put our best foot forward with a compelling message.
Matched On
May 21, 2020
Saved
$2397
Have professionals like Randi help you on a Elevator Pitch Coaching project
Post this project
Volunteer
I am an effective instructor of diverse students with extensive college teaching experience including developmental and college-level writing and economics and personal finance My recent work as leader of a weekly community meal includes seven years of coordinating volunteers budget communication...
Read More
What did Randi have to offer?
I want to serve by empowering others. Giving people a chance to step onto a boat and into history - and out onto the water - is a big deal. Gloucester City Sail should continue to welcome kids free of charge and I want to help them do it. PS: I love the water and we sail a small, 12' boat in NJ! I have done this! As a college professor, I teach my students that effective communication depends on understanding your purpose and audience My volunteer experience coordinating a weekly meal for people experiencing food insecurity included elevator pitches that I could use and that I could help others use. As with all communication, the key is to be purposeful but find your own voice; I teach people how to do that.
This engagement is sponsored by